CONVENTION DIARY: Day 2 at AireCon, Harrogate, UK: 9th-11th March 2018
Yesterday, I was telling you what a great day of gaming I'd had at AireCon (Day 1 at AireCon) but today (Saturday) was more about 'work': we're at AireCon mainly to run demo games of Agents in Time and seeking some help/advice and/or publishers willing to work with us to make this game a reality…
[We're Kairos Games on stand G8 by the way… 

]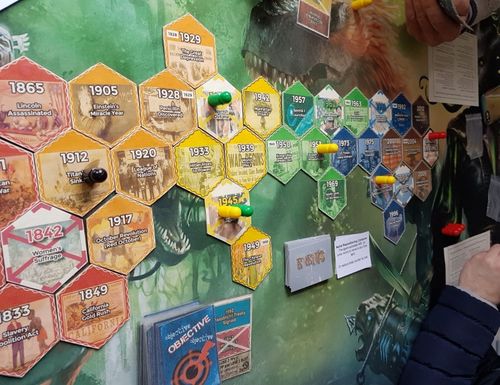 The innate flexibility in the design of Agents in Time means it can be adapted to fit almost any theme or time/era as long as there's a viable core 'time-line' to work with: you want an Ancient Rome edition? Check!  Ancient Greece more your thing? Check!  Maybe you'd like to break down Viking history and start the game with a 'Lindisfarne-793' timespot? Yup, we can do that!  Or maybe we can use those stardates in Star Trek: Deep Space Nine or take the history of Lord of the Rings and/or Game of Thrones…?  Licensing issues aside, we could do it!
Ne'ermind that lot, let's make up a future history of Planet Votun-Ten in the Fourspace Nebula and stick a timeline on it… Agents in Time can be adapted to suit all these scenarios and more: it's such a flexible design, and we are justifiably really proud of it!
Anyway, pitch over, how did the day itself go?
NOT A GOOD START TO THE DAY…
Well actually for me the day started really badly: a momentary lack of concentration just as we set out led to my car mounting the kerb and hitting a big decorative stone/rock, completely destroying my front tyre and badly damaging the wheel rim itself. 'Tis going to be an expensive fix for sure (donations welcome!), but that didn't deter me from making it to AireCon, albeit somewhat later than originally planned, and using someone else's car…
Entering the Convention Centre, the first thing we were struck by just how busy it was, given the doors had only been opened about an hour or so: there were queues outside and so many Open Gaming Tables already occupied — an awesome start!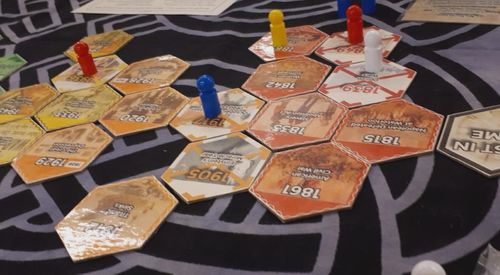 It didn't take us long to get Agents in Time set-up (5-10 mins), and we had our first demo up and running within about 20 minutes, so thank you Dave Phillips for getting our day properly under way!
The games flowed thick and fast then, so my thanks to Mark, Paul, Jon, Andy, Stuart, Carlos, Keith, Flavien and especially Andrew Knighton, who enjoyed playing Agents so much he came back and played two or three more games throughout the day!
Before I knew it, it 4pm was fast approaching and I'd been playing Agents for a solid 4+ hrs staight (and of course, enjoyed every minute of it!)… It was time for me to grab something to eat and let fellow exhibitor Ocean do some of the work, so while he was setting up another demo, I took the opportunity to break out another one of my game designs: Minty's Bootiful Football Game again ("The BIG Match in a TINY Tin!" folks!)…
As it happens, Andy (Knighton) had come back again (probably looking for another game of Agents in Time… lol), and was happy to give Minty's Football a go, too…
20 minutes later, after a tense showdown and some crunching tackles and injuries —and having gone 1-0 behind to Andy quite early on— the game came down to the wire: it was 2-2 with just 3 minutes to spare, and would you believe it, a cunning turn of skill, a deft roll of the dice, and my Blue team came out 3-2 on top… Hoorah!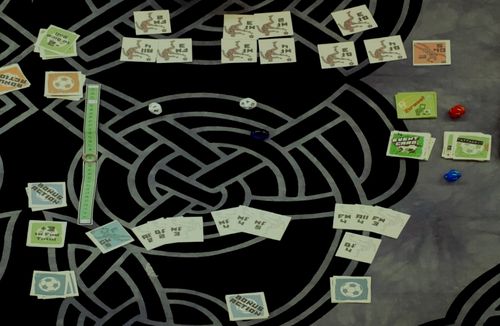 I do so love Minty's Football: the back and forth of a real football match comes through so well via the all-important Event Deck, and Andy even had an 'Xtreme Success' card that gifted him am opportunity on goal (which he scuppered, I'm pleased to say!) — this proved to be an epic clash of the titans, and my thanks again to Andy for indulging me!
4.30pm meant it was time for the "On the Couch with Polyhedron Collider" event, and this is something I was really looking forward to. The questions were randomly picked from the selection previously posted via BGG and other social sites, and ironically my 'silly question' was the first one out of the hat: "Who's the Ass on the Couch right now…?"… lol   Even more embarrassing, at least four or five of my other questions turned up during the course of the show, so I can only apologise to everyone else that didn't get a look-in: I only submitted ten or so questions, honest! My thanks also to Efka from No Pun Included, for suggesting that maybe I should be the one the panel should be going to dinner with in response to a Mark Cooke question… That can be arranged, guys, just saying, like… 😉
Shortly thereafter, a wonderful chap called Ronan came over with a copy of Raid on Taihoku: I'd previously said I was trying to find this as it's a Japanese game that hadn't made it over to the UK yet, and it just so happened that he had a review copy he was more than happy to donate to me, knowing full well it's going to get played and reviewed again… THAT is one of the wonderful things about this community, and frankly, it topped off what had already proved a fantastic day, all-told…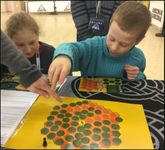 Returning to our stand, it was nice to see Ocean demonstrating another of our games for some very important guests… because as well as playing several demo games of Agents in Time throughout the day, we were also demonstrating Super-Bee!, too: this is a children's game about finding and gathering honey, but there are also a few special ability tiles hiding in that very pretty honeycomb board…
A lot of fun was had, and the kids loved it: "Look at all the honey I've gathered, Mummy!"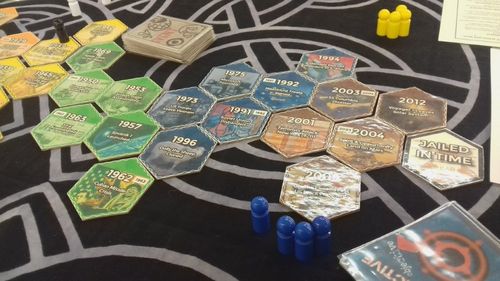 TRADING DAY ENDS…
I don't think I realised quite how long the day had felt until we were closing down at around 6.30pm — we were slightly late because a couple of people were finishing another game of Agents in Time and the security guard was really good about it, whilst still politely telling us to get a shifty on!  Indeed, if there's one thing that has stood out today, it's just how incredibly friendly nigh-on everybody is, especially the fantastic AireCrew volunteers, led by Anna and Adam, the dynamic duo!
We finished the day off with a short outing for Roman Trader, followed by a very good game of Ethnos, which ironically had a very similar double-sided mechanic to my Roman Trader game — I'd never played Ethnos before, but had heard such wonderful things about it through the Dice Tower and other sites, with none of them actually explaining how it played other than that games always flowed well and it was easy to pick up and play. I felt smug as a bug in a rug, I think, even though I did terrible in the actual game… but hey-ho…
So overall, another excellent day, and I'd completely forgotten about my earlier car calamity until shortly before we headed home…
If you're around on Sunday, do pop by and pay us a visit:
Agents of Time is waiting for you 😉
We'll be demo-ing Agents in Time all weekend on stand G8, Kairos Games!