CONVENTION DIARY: Day 3 at AireCon, Harrogate, UK: 9th-11th March 2018
You can read about my Friday and Saturday at AireCon here:
Day 1: Friday 9th March
Day 2: Saturday 10th March
In stark contrast to Saturday, the last day of AireCon felt like a very sedate affair, and although we managed to demo quite a few games of Agents in Time again, it didn't have quite the same buzz as the previous two days…  'Twas a lazy Sunday, indeed…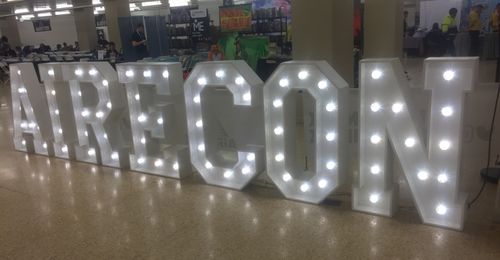 That's no reflection of AireCon itself, incidentally (which has been a marvellous weekend, just to be totally clear), more a case of there being less people around and many of those behind the trade stands looking a tad jaded (through a lack of sleep, I suspect)… arguably, the proliferation of games played throughout the weekend and at the nearby hotels long after the doors closed didn't help matters!
More than a few traders I spoke to were also happy to start packing up as early as 2pm in readiness for a potentially long drive home, so this probably contributed to the overall sense of a slower day…
That all said, AireCon is clearly a Con with the focus firmly on playing games, as evidenced by the huge amount of space given over to Open Gaming which dominated two-thirds of the main floor, and I remarked more than once how utterly marvellous it was just to see so many people gaming with others they'd probably only just met via a black or white 'Looking for players' flag or balloon: an awesome system that clearly works, and works well… A black flag/balloon identified shorter games, while a white one represented games that were likely to run beyond a few hours, so players knew what they were signing up for before they even approached the table!
Anyway, to business… We were fortunate on the demo front, and had a full table right through 'til nearly 3pm for Agents in Time, and as you can imagine, managed to squeeze several games of it in up until that time.
I never get bored with showing off Agents, and relish the opportunity to get it in front of as many players as possible, because I know my passion and conviction for the game is as strong now as it's always been, because it comes through every time I play, and several people who played the game at AireCon commented on this very fact again this weekend: I'm looking at you, Andy, Scott, Clare, and especially Ann-Marie!
Indeed, "A-M" was one of those players who came up to join us and specifically asked if she was going to get the 'full experience' or just a shortened 'demo-only'-type rules explanation of the game (as had apparently happened with a few others who had clearly exhausted themselves on playing their own game endlessly over the weekend!)… Of course we gave Ann-Marie the full experience of Agents, because as cool and flexible as it is, the inherent strength of the game lies in the core gameplay and the nuances thereof…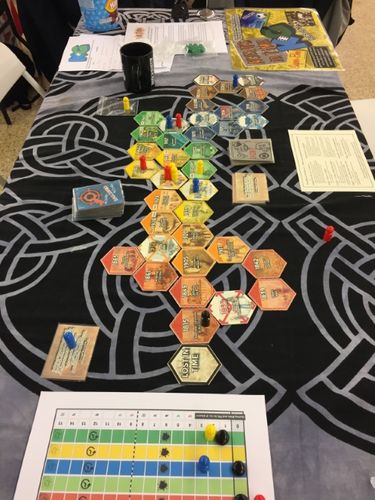 The huge replayability factor of Agents helps too, of course, because every board layout is different, and although I'm not going to try and do the mathematics here (you're welcome to do so if you have the time or inclination), there are basically 36 Timespot tiles on a modular board that can be re-arranged in several billion different combinations…
As I said, it's always a privilege to put Agents in Time in front of other gamers, because a lot of the more subtle strategies are never immediately apparent with just a rules explanation, and a number of players were really happy to tell me that they enjoyed the game more than they initially expected to, or that they were surprised at just how much they did enjoy it, etc.  And more than a few people asked when and where they can buy the game, which was particularly gratifying, it has to be said!
Alas, for Dave, Scott, and the rest, I'm afraid you simply can't buy Agents at the moment, although we're at that stage where we really just need a publisher to come along and give us the nod, and then 'put their own stamp on it', so to speak, whether that be in the sense of changing the art-style, the colours of the tiles (or even some of the more controversial Timespot/Event choices we made: 1953 always stirs that particular pot!), etc.  I did talk a lot about the adaptability of the game in yesterday's Diary, so I'll spare you the same spiel today!
As an aside, I also got to meet Tristan Hall today, from Hall or Nothing Games (creators of Gloom of Kilforth and 1066, Tears To Many Mothers — I backed the latter on Kickstarter btw), and even convinced him to consider releasing some of his historical background articles on the 1066 characters (released in KS updates) as a downloadable PDF via BGG… Watch this space for that one!
Alas, after 3pm, things died off considerably, and both Ocean and I took the opportunity to try and play an obscure game called Timestreams which proved a bit of a challenge, and in truth, not much fun either, unfortunately.   Timestreams ("Deck 1: Stone Age vs Future Tech") is a game in which players lay faction cards into a tableaux across several 'Ages' in the hope of scoring the most points at game end, with each card progressively worked through in each column at the end: some of them allow you to swap other cards around, etc. before tallying up your final score for that particular Age, and that's essentially the whole game in a nutshell! Needless to say, we weren't huge fans of this…
Some of my highlights over the weekend, apart from getting to play Nusfjord and Flamme Rouge on the Friday, and Ethnos on the Saturday (all games I'd been itching to get my hands on); were getting to meet and chat to the guests: Rodney Smith from Watch It Played and Efka from No Pun Included; getting to meet Anne, Mark, and Denise (aka "Mark's Mum") from the AireCrew (wonderful peeps, all of them!); meeting Sean and Ronan from The Game Pit (and getting a free copy of Raid on Taihoku from Ronan!); and of course, getting the opportunity to play so many games of Agents in Time with so many total strangers who went away having clearly enjoyed the experience just as much as we did!
When the dust settled and we finally made our move to head home, I couldn't help but wonder how much effort and stress Mark, Denise and the rest of the 'AireCrew' had put into making the weekend such a great experience for so many people. Whatever you did, and however you did it, this was a grand achievement, for sure, and I for one had a fantastic time, and have come away from AireCon with many amazing memories (and three extra blog entries!)
I doff my hat in appreciation of all the AireCrew volunteers. Thank you!