OPINION: Top 5 Games I Played in 2019…
Ayup!  I'd orig
inally planned to write this post at the weekend, but as 2019 faded into the dust, I took advantage of a rare opportunity to join some fellow gamers in a 4-player game of Angola! on Sunday instead.  Furthermore, we went at it from 9.30am-ish right through until 6pm… and what a cracking tussle it proved to be, with the Western-backed FNLA / UNITA factions eventually winning out against the Soviet-backed FAPLA / MPLA factions when Luanda finally fell to an overwhelming FNLA force knocking on its doorstep, accompanied by half a dozen Anti-Aircraft and Anti-Tank Missiles dutifully supplied by foreign aid from their Western allies…
Moreover, I played the FNLA faction (teamed with UNITA), and it was a corker of a game, all told: the slow build-up of forces on both sides with the help of a neat Covert Foreign Aid mechanic, the regular exchange of Victory tokens as towns and cities are traded between sides, the very clever way the entire game builds into a Mexican stand-off style scenario – it was all just great, tbh!  What an enthusiastic and promising start to 2020, with the hope of many more similar days to come, fingers-crossed…
Anyways, hopefully you all had a great festive break, and indulged in some gaming goodness of your own, so let's get on with my top 5 games for 2019.  As always, the caveat here is that these are the games I have played and enjoyed the most this year, and are not just the newest or latest titles to 'take my fancy', so to speak…
Top 5 Games I Played in 2019…
5… The Taverns of Tiefenthal
This is a relatively new title from Wolfgang Warsch, and while I may not be the biggest fan of his The Mind game (a non-sequitur imho), I did really enjoy every game of Quacks of Quedlinburg I played, and believe he's done a marvellous job with this one, too. As well as a constantly evolving game-state as you utilise dice to gather resources and upgrade your tavern in an effort to attract more nobles (and physically transform it as you do so, incidentally – which is sooo clever!), the base game includes four additional modules that provide the opportunity to expand and increase the complexity. This is something that worked really well with Quacks, too (you can mix'n'match different coloured potions that have different effects in that one), so I'm glad he seems determined to continue trying to 'add value' to his newer designs.
4… Pandemic: Fall of Rome
Back in May, 2019, I made the bold claim that this had finally succeeded in taking over Pandemic: Reign of Cthulhu as my favourite version of Pandemic (see REVIEW: Pandemic: Fall of Rome), and I've played enough games of this now to believe that it truly is one of the best iterations of Pandemic yet released (imho), and with enough of the original Pandemic design elements to demonstrate the innate flexibility of the system. That said, it does such a great job of putting the 'squeeze' on players as the various Barbarian forces slowly but surely inch closer and closer to Rome itself, and every game I've played has been a tense and hugely enjoyable experience — we only beat it once in 2019, as well, so rest assured I'm planning to have plenty more goes at it in 2020!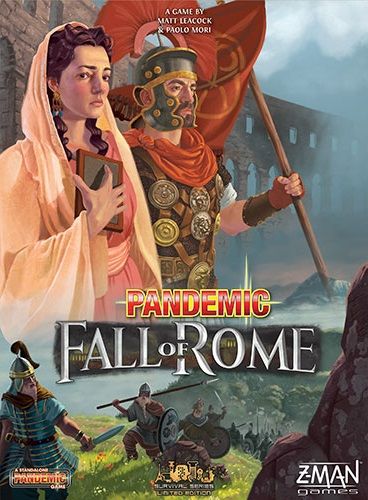 3… Barrage
I have previously written extensively about the disastrous KS campaign this game endured prior to release (I wrote about it both here on the blog and in The SPIRIT #6, I think), but let me say right now that this design by Tommaso Battista and Simone Luciani remains an excellent strategic game of worker placement, resource management, and cunning building/development, and they are a pair of designers to watch.  I have played Barrage a lot this year, and have still yet to explore its many delights and nuances. Of course, I look forward to getting this to the table loads more in 2020…

2… Awkward Guests
This is probably the biggest surprise entry, and I suspect that many readers might not even be aware of this game just yet – it's a design from Ron Gonzalo Garcia and was originally released in 2016, although I believe there's a Kickstarter campaign in the works (or it's been and gone, already, in which case I apologise).  This game is basically 'Cluedo with nobs-on' and is a supremely entertaining and extremely clever game of deduction and counter-deduction in which players gain, share, and swap clue cards in an effort to discover who killed Mr Walton…  You can read more about the game and even download a Print'n'Play version (just one sample case – there are dozens in the actual box) from here: Awkward Guests P'n'P download…  I kid you not, every game I have played of this has been a non-stop enjoyable and fully engaging experience, and I am determined to try and get my own copy asap, and would recommend you do so, too, if you get the chance. It's a game that'll probably go down well with newbies, too, I suspect!
1… Marvel Champions: The Card Game
Yup, despite being launched at the tail end of 2019 (and being a birthday present from my gaming group, incidentally), this has rapidly ascended to the very top of my list for 2019 – I have played sooo many games of this already (mostly solo, alas), and had an excellent experience every single time – the depth and scope for replayability is already completely off the charts with this, even using just the core, base game.  I am not only planning to collect and invest in several Marvel Champions expansions throughout 2020, but hope to have played enough games by the end of the year to really start exploring more fully the personalised deckbuilding aspects of the game, the vain hope being to put together some great decks both for myself and other players.  I'm sure I am not the only one with very high hopes for this game in 2020 – indeed, I fully intend to play the holy heck out of this game!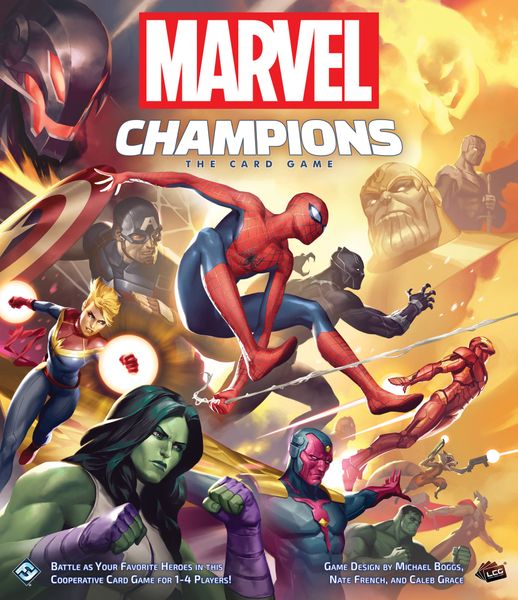 And that's your lot for now.  What will the New Year —nay, the new decade— bring…?